Featured Projects
The One-Day Church in Zambia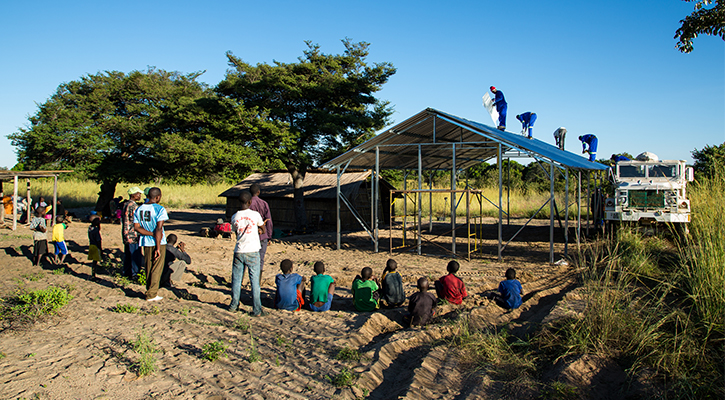 Donate
How many times would you be willing to build your church?
Once? Twice? Four times?
In the Zambian bush of Africa, a modest church structure made of mud and grass can take you more than a year to construct.
Then, two years later, you'll have to build it again.
In two years the thatch roof will have thinned out—devoured by wasps and other pests. During the wet season, rain will pour through the holes and onto your head, turning the floor into mud. Water will dissolve the walls. The church will become an empty shell, and the building process—molding bricks, cutting grass, plastering walls with mud—will start once more.
Then, after that, you'll have to build it again.
This is the reality of your fellow believers in Zambia. They love to sing and worship the Lord, but the problem of space is persistent. Church construction isn't a one-time project; it's a chronic challenge—ever present and seemingly impossible to solve.
Because if your church is in the bush, you might as well be alone. Far from modern conveniences, the primitive village is a forgotten relic. It takes hours in a 4 by 4 truck to get to the villages—through sand and muddy fields.
Yet the Gospel reached even here—deep in the floodplains of Zambia. Someone cared enough to share the light of Jesus Christ in the furthest village.
So why can't someone help build a church?
Well, we can. You can.
It's called the One-Day Church. And you can help build them in Zambia. They are a perfect solution for this vast country, where roads are scarce but the need for churches is great. Lightweight and easy to assemble, One-Day Churches can be loaded onto a truck, driven into the most rural regions, and constructed in a day.
The One-Day Church consists of a galvanized steel roof and frame. Then, local materials are used to complete the walls and the floor. A steel roof is a huge upgrade over a roof of grass. Rain won't rust the material, nor will water seep through the roof and damage the walls.
Having a One-Day Church means a congregation won't have to build their sanctuary over and over again. And this means there will be more time for members to reach out to their community and share the Gospel.
Already, we've answered requests for more than 200 churches in this country, and there are still more that are waiting for your help.
The only problem is we need more funds. We urgently need you to sponsor One-Day Churches in Zambia.
Oswald Musilima is a Seventh-day Adventist Christian. He lives in the city of Mongu, located in the western province of Zambia. His congregation, Mokoko, was among the groups to receive a One-Day Church in 2013. On the day Maranatha arrived, Oswald was so excited that he went to the site to help build the church.
He worked hard, and Maranatha noticed.
"Someone came over to me, and said, 'Are you willing to help Maranatha?'" remembers Oswald.
After talking it over with his family, Oswald left his job as an instructor at a vocational school and joined Maranatha the next day.
Since then, Oswald has traveled all over Zambia, building churches. The churches he builds may take a short time—the crew averages about four hours per church—but the time in between is long, especially when they are building in the bush.
The travel is not easy.
Oswald and his fellow crewmembers have to drive for hours through the most unforgiving terrain. Their trucks negotiate potholes, sinking sand, thick grasses, and swampy flood plains. Emergencies require them to set up camp in places where animals roam. Elephants, lions, hyenas—this is Africa, after all.
It sounds like a terribly difficult job. But Oswald disagrees. He says that there are no challenges when there is so much joy. People are happy to see Maranatha arrive.
"People have so much suffering … they do not have anywhere to worship," says Oswald. "And when you come in and they see you—and then three hours later the church is up, they cannot even believe it. You find people even touching it. They touch the steel. They say it's like a dream come true for them."
Can you imagine how they must feel? For them, building a simple church means months of labor with no guarantee of how long it will last. Then a truck arrives to answer their prayers, and in just a few hours a permanent church is built! It is truly like a dream!
Oswald says the only hard part is having to say, "No."
"When we are building here, someone comes from another church, and they ask 'When are you going to build my church?'" says Oswald. "To me, that is the hardest part… because you cannot say yes to everyone. That is the problem we have."
This is a predicament that Maranatha faces often. There are so many requests. So many pleas for help. We cannot say yes to everyone.
But we could say yes to more churches if only we had more funding.
And this is where we need you.
We need donations for Zambia. Throughout this vast country, there are hundreds of congregations in need of a place of worship.
We need to fund more churches, but we cannot do it without you.
"The only thing I can add here is to ask that more churches be provided," says Oswald. "We have the man power. We have the willingness—the crew is so willing to do it…we are asking our donors, our sponsors to help us with more churches."
Will you make a donation in support of One-Day Churches in Zambia? It would mean so much to the congregations in need.
Oswald recalls one church he built in Kaoma Central, a district in western Zambia. Word had spread that Maranatha was coming to the village of Shituta to build their long-awaited church. When the trucks started rolling into the village, what Oswald saw next shocked him.
"I could see ladies remove their skirts (a chitenge, a long piece of fabric that women wrap over their clothes) and laying it on the ground so that our trucks could go over it," says Oswald. "In our culture, when a king comes, you remove your skirt and lay it on the ground. So they were just doing that. Those ladies were very happy. You could see their happy faces, and they were waving all over."
Oswald smiles, remembering that moment. "As a crew, we are very happy because we know the work we are doing—it's physical but it's spiritual too," says Oswald. "We are lifting the spirit of the individuals. In Matthew, Jesus says to preach the Word. Before He comes, the Word must be preached all over. That is happening now, not only through the mouth, but through the structure also."
"I tell pastors, 'You are evangelizing through the mouth. I am evangelizing through structures!'"
Evangelizing through structures! Oswald is living the Maranatha mission—to spread the Gospel through the construction of urgently needed buildings.
But the mission needs you, too. The One-Day Church has been an answer to prayer for hundreds of Adventists in Zambia. You can help us to continue this work by making a donation for churches in Zambia.
You can sponsor a share of a One-Day Church for $1,500. For $4,500, you can sponsor an entire church. You can also donate any amount toward our work in Zambia. That money will go toward one more, desperately needed One-Day Church.
Please be part of our work in Zambia. You can join Oswald and Maranatha in the mission to "evangelize through structures."
Donate to the One-Day Church Program
---